INDS B.A.: Natural Disaster Management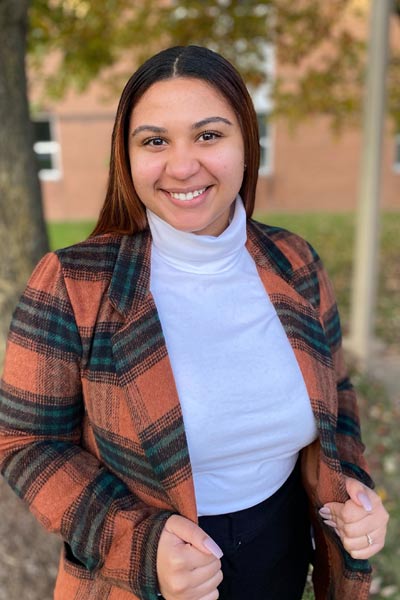 My INDS Degree
I chose to major in INDS for a number of reasons. Firstly, I have a passion for all things weather related, especially natural disasters. The science behind natural disasters and their ability to destroy cities within seconds, fascinates me. Secondly, ever since I toured The R. Adams Cowley Shock Trauma Center in the tenth grade, I have found a love for trauma informed care and the fast pace nature of all things emergency related. Lastly, I have always been interested in the inner workings of various social groups and how those groups interact, live, and work within society, more specifically, low-income groups. When I came to UMBC, I did not find my three passions within my first chosen major and minor. However, when I talked to Professor Brown about the INDS department, I knew I could combine my passions into one and bridge the gap between my disciplines. Then, I became excited about pursing education and was finally able to claim my education at UMBC.
Degree Mentors
Dr. Jeffrey Halverson, Geography and Environmental Sciences
Dr. Sara Poggio, Modern Languages, Linguistics, and Intercultural Communication
Eric Brown, Individualized Study
Post Graduation Plans
My ultimate goal is to become a disaster specialist for FEMA; however, that career path requires years of preliminary job experience. In the mean time, I hope to work for either a non-profit that services minority groups, low-income communities, or veterans or work for a local or state government under their emergency management department. Wherever I end up working, I hope to combine my disciplines to bring an interdisciplinary perspective to the workplace. Furthermore, I want to expand my understanding and collaborate with the perspectives of my colleagues to broaden my knowledge. Eventually, I plan to get my PhD in Emergency Management.
Courses In My INDS Degree
✅Knowledge of Meteorological and Climate Conditions: These courses will allow me to understand the science behind the different variables that can cause natural disasters and how they impact environments and populations. Therefore, I will gain knowledge in how to prepare both the communities impacted as well as the emergency services that will provide planning and relief. (GES 286, 311, 312, 329, 414)
✅Understanding Emergency Medicine and Management: These courses will teach me aspects of emergency health care from both the management and clinical fieldwork areas which will help me when working with multiple branches within disaster management. (EHS 200, 301, 320, 340, 470/HAPP 350)
✅Understanding Sociological Conditions of Marginalized Populations:These courses will help me gain insight into being more socially sensitive along with knowledge on the various ways of providing outreach and how to learn from and understand the perspectives of under resourced populations. (SOCY 300, 310, 351, 359/MLL 305, 306)
✅Individualized Study: These courses provide supplemental knowledge and guidance in the development of my individualized degree. (INDS 330, 335, 410, 480, 490)
5/12/2023