2023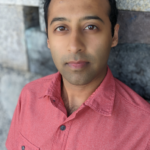 Dr. Majid is the recipient of the 2023 Alumni Rising Star Award Click here to learn more about the October 26, 2023 Alumni Awards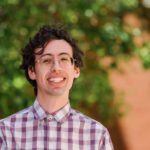 Ocone is the recent recipient of the UMBC 2023-2024 Prestigious Fulbright Student Award. He will be conducting research at Meiji University School of Global Japanese Studies in Japan. Click here to learn more about the Fulbright Student Program 
2022
Brian C. Montgomery, Ph.D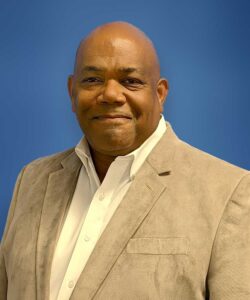 Dr. Montgomery was promoted to Chief Scientist at the Stellar Peak Corp.
https://www.stellarpeak.com/Team/brian-montgomery
We are proud to announce that Spring 2021 graduate Davis Cappabianca has been pinned Chief Petty Officer (E7) for the US Navy as he continues to develop a career around his INDS degree of better coordination between military and civilian response teams as they seek to bring relief after natural disasters.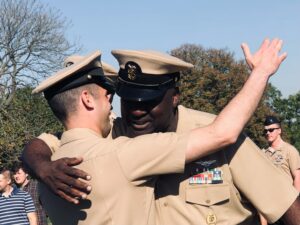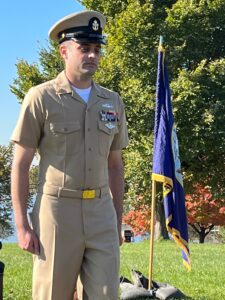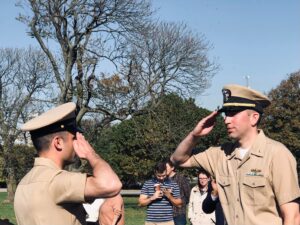 2021
Adrienne McFadden joins Buoy from Humana Insurance, where she worked as Vice President for Medicaid Clinical to lead the overarching clinical and population health vision and strategy for the Medicaid organization. Her wide-ranging experience as a licensed and board-certified emergency physician and public health leader positions her perfectly to take on the role of Buoy's Chief Medical Officer—shepherding the company's clinical strategic direction and guiding the development of Buoy's innovative product initiatives. After beginning her career in emergency medicine, McFadden also led the Office of Health Equity at the Virginia Department of Health and served as Medical Director of South University, Richmond's Physician Assistant Program.
"My number one priority throughout my career has always been to advocate and care for the most vulnerable populations in our society," McFadden shared. "As Buoy's CMO, my mandate remains the same: harnessing the power and privilege of medical expertise to expand affordable, equitable care and services to all in need—this time through groundbreaking technology. Too many have fallen through the cracks of an imperfect system of care, but our team is ready to tackle this challenge head-on through our tireless commitment to tech innovation and sound medical guidance. I'm thrilled to be joining the Buoy family."
McFadden received her medical degree from the Duke University School of Medicine and her law degree from the Duke University School of Law. She has served in leadership roles within the National Association of State Offices of Minority Health and the American Heart Association. McFadden is a recipient of the Virginia State Health Commissioner's Award and the Distinguished Service Award from the University of Maryland's Department of Emergency Medicine. She also holds a bachelor's degree in interdisciplinary studies from the University of Maryland, Baltimore County.
Original Article found: https://www.prnewswire.com/news-releases/buoy-health-bolsters-mission-to-transform-the-future-of-healthcare-with-three-new-c-suite-hires-301355941.html
2019

Tabassum Majid – "Neurodegenerative Disorders of the Aged"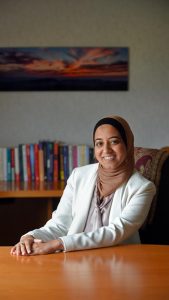 Because Integrace Institute at Copper Ridge is located in an assisted-living facility, executive director Tabassum Majid can see the real-world applications of its Alzheimer's and aging research daily. It's valuable insight for the Catonsville native as she looks to the future of aging and the needs of a growing, diverse demographic. "We know you have symptoms [of dementia] 10 to 15 years before we see anything — that means for our generation, it's going to be even more important to build something we want to have," she says. Integrace works toward that goal through research and education alongside technology and pharmaceutical companies, and applies its findings to practices at its four Maryland facilities. For example, the institute introduced a bistro serving fresh, seasonal dishes that follow the Mind Diet, emphasizing foods that research suggests can help dementia and slow the loss of brain function. Majid says she always knew she wanted a career on aging. After graduating from the University of Maryland, Baltimore County with a degree in neurodegenerative disorders of the aged, she earned her doctorate from the Baylor College of Medicine in Houston and had a fellowship at the University of Maryland School of Pharmacy. As progress in the field ramps up, Majid is welcoming the opportunity to join the global conversation. In 2017, Integrace was featured in the film "Every Three Seconds" with 23 other organizations from all over the world, and the institute is eyeing national collaborations for next year, particularly in Alzheimer's disease prevention.
2017

Julianna Brightman – "Food System Studies"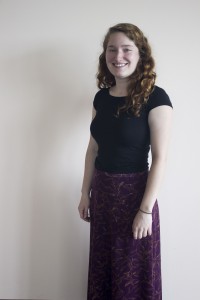 Accepted the position as a legislative assistant for MD Senator Joan Carter Conway for the 2017 legislative session.
2016

Paul Vanik – "Biomedical Science and Healthcare Systems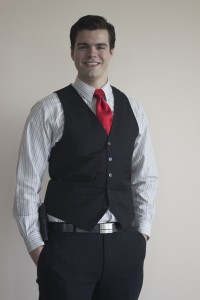 Featured in the Capital Gazette in an article titled "J.E.T.: Severna Park Woodshop Helps Families Handle Fatal Plane Crash" for his work on a project which turned charred wood from a plane crash into pens for the family members of the victims.
Updates from 2015 and before

Kristin Drabyn – "Studies in Exercise Physiology and Sports Communications"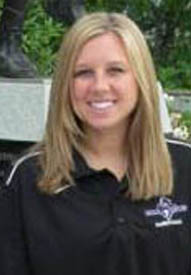 Recently returned to UMBC as Assistant Women's Basketball Coach after earning a master's degree in Sport Management from Texas Tech as well as coaching for Texas Tech and Holy Cross. Kristin was the  co-captain of the UMBC Women's Basketball team in her senior year and served as president of the Student Athlete Advisory Committee.
Joe Wesolowski – "Historic Preservation: Sense of Place"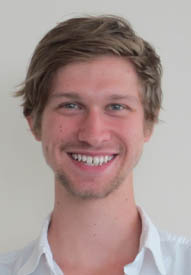 Created an interactive presentation at Undergraduate Research and Creative Achievement Day in 2011 entitled "For the Old/Toward the New: Shaping the UMBC campus."
Joe was also the founder of the INDS event "art.Reach." Under his careful eye was the first art.Reach a success.
Chris Buckler – "Engineering Education"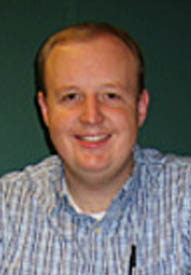 Chris is now a high school technology education teacher with Baltimore County Public Schools. As the first recipient of a BS in Interdisciplinary Studies with a concentration in Engineering Education, Chris participated in the Sherman Teacher Education Scholars Program
Christina Hawkins – "International and Global Studies: Political and Economic Affairs in Latin America"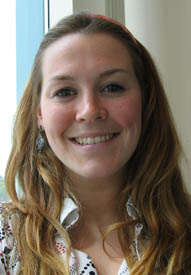 Attended the Edmund A. Walsh School of Foreign Service at Georgetown University to pursue M.A. in Latin American Studies after graduating Magna Cum Laude from Interdisciplinary Studies with a self-designed major in International and Global Studies: Political and Economic Affairs in Latin America. She was a member of the Honors College, Student Representative to the Interdisciplinary Studies Committee and President and Captain of the UMBC Women's Volleyball Club. Christina presented at Undergraduate Research and Creative Achievement Day in 2008 on "Latin American Trade Alternatives for the 21st Century.
James Valentine – "Social Perspectives in Biomedical Ethics"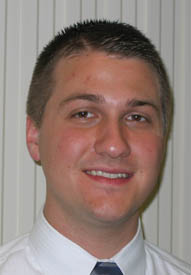 Earned a Master of Health Science (MHS) in Health Policy, Johns Hopkins School of Public Health in 2010, and works for the Food and Drug Administration's Office of Special Health Issues. He is currently attending the University of Maryland School of Law. James graduated Magna Cum Laude from UMBC.
Allison Isberg – "Medieval Linguistics"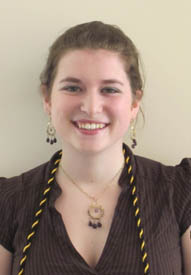 Accepted to the University of York MA program in Medieval Studies. Allison is a recipient of the Dean's Scholarship. She recently returned from study abroad at the University of York (UK) where she translated a medieval will. She served as the President of the INDS Council of Majors (2010 – 2011) to help plan and run events such as our Benefit Concert for Global Women's Health and the annual Petrovich Lecture, on the Interdisciplinary Studies Committee of faculty and staff to approve new degree proposals.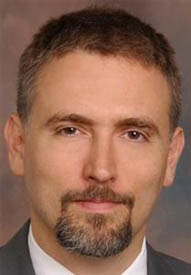 Awarded a 2011 "Outstanding Alumni of the Year" award in the Social Sciences. Dr. Wilkinson is Co-Director of the Duke Center for Minimally Invasive Gynecologic Surgery and Clinical Assistant Professor of Urogynecology at Duke University School of Medicine. He completed his medical training at the John's Hopkins University School of Medicine and received his bachelor's degree from the Interdisciplinary Studies program at UMBC.
Martina Kristianova – "International and Global studies: International Relations with a Focus on Europe"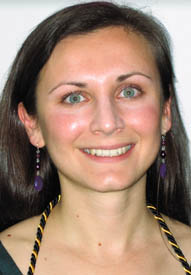 Awarded a grant from the European Commission that will cover full tuition and living expenses for graduate studies at the Erasmus Mundus Interdisciplinary International Relations program. Her first year of study will be in Leipzig, Germany and her second year will be in Wroclaw, Poland.
Martina Kristianova presented her capstone research on the European system of emissions trading at the 2010 AIS Conference in San Diego, CA.
Christine Osazuwa – "Music Journalism and Entrepreneurship"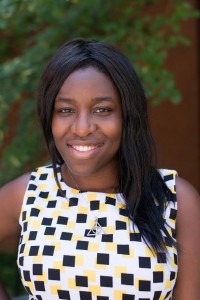 She won an Undergraduate Research Award to study "Access, Entitlement and Expectations of Popular Music Bands in the Age of Social Media," which she presented at Undergraduate Research and Creative Achievement Day in 2011. Christine founded a music magazine entitled "Scene Trash" before coming to UMBC and now works as a project manager for Mission Media.
Donna Viola – "Astrobiology"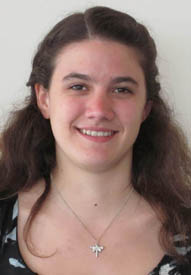 Accepted to the Ph.D. program in Astrobiology at the University of Arizona. Also a nominee for valedictorian at the Spring 2011 UMBC Commencement, Donna served as the Vice President of the INDS Council of Majors, a member of the UMBC Women's rugby team, and Commander of Crew 99 at the Mars Desert Research Station. She graduated Summa Cum Laude with an Interdisciplinary Studies degree in Astrobiology.
Christina Briscoe – "Public Health in the Latino Community"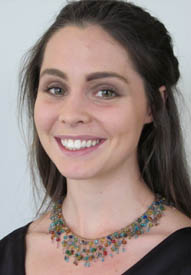 Awarded a Fulbright Award for study in Brazil in 2012. A nominee for valedictorian at the Spring 2011 UMBC Commencement, Christina designed her own Interdisciplinary Studies degree plan entitled "Public Health in the Latino Community." She graduated Summa Cum Laude.
Laura Dress – "Biological, Social, and Ethical Dimensions of Health Care"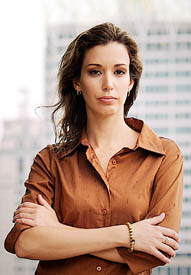 Laura recently published a co-authored chapter (with UMBC Vice-Provost Dr. Anthony Moreira) entitled Synthetic Biology: An Overview in the book Comprehensive Biotechnology (2011). Her INDS degree was entitled Biological, Social, and Ethical Dimensions of Heath Care.
Lynette Burks – "Human and Medical Genetics"

Lynnette is in an MD/Ph.D program at Baylor University in Houston, Texas. She was selected to receive the BRASS Scholarship (Baylor Research Advocates for Student Scientists) for students who serve as ambassadors from Baylor to help the public understand more about science research. Lynnette also helps recruit students for the medical school and was here at UMBC on a recruiting mission. She's enjoying both her academic role and her ambassador role and continues to maintain honors grades.
Chris Strong – "Broadcast Journalism"

Chris is the Vice President of Membership at the National Association of Manufacturers (NAM), one of the nation's top business trade groups.  He runs the division responsible for recruiting and retaining the association's members.  Chris is also the logistics chairman for the NAM Battle of the Beltway, a corporate olympics held each year at the White House to benefit the Cystic Fibrosis Foundation.  Reflecting on his Interdisciplinary Studies major, Chris says that he came out of the program with strong writing and communication skills; he believes that successful business leaders do not get to the top if they cannot communicate effectively.
David Hinman – "Animal Biology and Ethics"

David is a veterinarian at two local offices, practicing regular medicine at Bethany Centennial Animal Hospital and emergency medicine at Anne Arundel Veterinary Emergency Clinic.  He also volunteers at the Maryland S.P.C.A. and writes articles for their newsletter.  As a doctor and animal advocate, David has adopted several animals that were in need of a good home.  In retrospect, David believes the Interdisciplinary Studies Program produces creative, goal-oriented students. He adds, "The final project forces you to learn how to plan, organize, schedule, and finally, produce something unique. That alone is great training for the world outside the walls of the university."
Jeff Strong – "Visual Communications"

Jeff is the Supervising Producer in the Advertising and Promotions Department at the Discovery Channel.  As a producer, Jeff has the opportunity to travel all over the world.  He has been to South Africa to film Great White and Tiger sharks, and to Morocco and New Zealand to film an adventure race.  In addition to his job at the Discovery Channel, Jeff is a judging member for the Emmy Awards.   Jeff credits much of his success to the Interdisciplinary Studies Program at UMBC, noting that he gained a variety of skills as an INDS major that he would not have acquired in a traditional program of study.
Pamela Smith – "Educational Policy"

Pamela is a staff attorney for the Legal Aid Bureau, Inc. in Annapolis, Maryland.  She also works for the Pro Se Family Law Project, providing unrepresented litigants with information on the court process.  As an active member of her church, Pamela serves on the strategic planning committee and volunteers as a chaperone for the Youth Coffee House.  Pamela strongly believes that her experience as an INDS major gave the edge she needed to be successful. She states, "After I explain to people what the INDS major is, they are impressed that I was able to design my own undergraduate program."