INDS B.A.: Art and Custom Prosthetic Design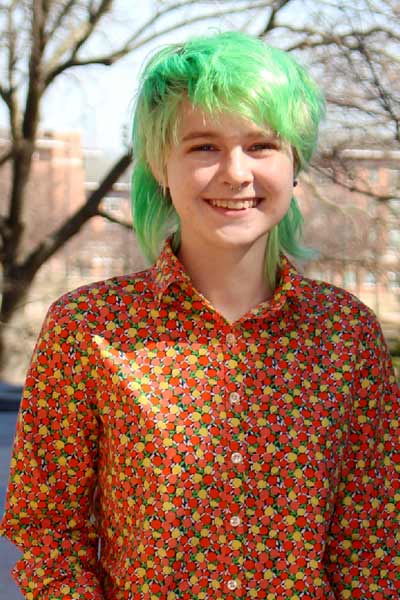 My INDS Degree
When I learned about the INDS program, it seemed like the best fit for my career plans! I came to UMBC as an animation major both out of a love for the medium and with the hopes I would learn some useful 3D modeling techniques I could use for prosthetic design. I didn't think an engineering degree would cover everything I wanted and my heart has always been with the visual arts. But when I found out I could create a degree through the INDS program I knew it was what I was looking for. My degree requires a multitude of different perspectives; from engineering, psychology, visual arts, and disability studies. An INDS degree offered me both the opportunity to pull from different disciplines through varied course work as well as integrative tools and strategies to understand how these disciplines relate to one another. Having this integrated perspective allows me to approach prosthetic design with a broader understanding of the factors that impact prosthetic creation and acceptance.
Degree Mentors
Foad Hamidi, Information Systems
Symmes Gardner, Visual Arts
Steven McAlpine, Individualized Study
Post Graduation Plans
In the long term I hope to be able to work on a freelance basis designing and fabricating custom prosthetics for people. My immediate post-graduation plans have shifted a bit recently. I would really like to take some time off from academia so I am looking into getting a job or internship as a prosthetic technician or to begin training for that role right after I graduate. I am hoping to do that for at least a year or two before returning to get my masters, either going through med school to become a certified prosthetist or pursuing a Fulbright scholarship to get a degree in Integrated Product Design in the Netherlands. While it may take a while for me to ever have my own business in creating custom cosmetic prosthetics, I can see myself working as a technician and experimenting with ways to innovate the current cosmetic options while within the current industry. Either way I'll be able to put my degree to good use fabricating prosthetics, whether it's on my own or as a part of a larger organization.
Courses In My INDS Degree
✅ Construction of Mechanical Forms: Understanding materials, their uses, and construction of functional and stable forms is important when creating prosthetics. There are weight-bearing aspects and joints to consider when constructing a limb, so understanding materials and how to use them will be necessary. (EMME 220, 204)
✅ Design in Three Dimensions: Understanding working in three-dimensional space and how to translate three-dimensional artistic and mechanical designs is important to creating a functional prosthetic. Knowing how to work with materials in three dimensions will be important in creating aesthetically pleasing and functional prosthetics. (ART 212, 341, 384, 322, 494)
✅ The Human Body and Mind: Having an understanding of the human body and how it functions as well as how psychology plays into the perception of the body is vital to my understanding of how to build prosthetics that will best benefit the user. Having an understanding of the mental functions of people, the physical functions of people, and how they relate to one another will help me design prosthetics that are not only functional but are also adapted to improve the mental state of the wearer. (BIOL 251, 252/PSYC 335/GWST 345/ENGL 493)
✅ Entrepreneurial Consideration: I need to understand how to pitch my concept to various agencies, companies, grants, or investors who would be willing to help me pursue the creation of customized prosthetics. (ENTR 200, 201/ART 339, 341, 399)
✅ Individualized Study: (INDS 330, 335, 399, 400, 430, 480, 490)
5/12/2023