Congratulations to Nimasha Fernando!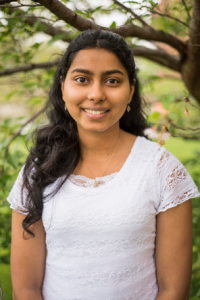 Congratulations to one of our recent INDS graduates, Nimasha Fernando! Nimasha graduated as a double major in interdisciplinary studies, "Intercultural Health", and Biological Sciences with a minor in Anthropology. This Fall, she will continue her education at the University of Maryland School of Medicine in the Masters of Public Health program with a concentration on Global Health.
How has INDS prepared you for the future?
"I have learned that health is part of a person's unique experience and is not just defined by their biomedical condition."
What do you take away from your degree?
"I have gained an appreciation for qualitative and quantitative research methods and understand the advantages and limitations to different methodologies. Designing an INDS major made me consciously consider my future goals, why I wanted to accomplish those goals, and what skills I needed to get there. This focus helped keep me grounded through the semesters as I saw a direct relationship between my coursework and the skills I wanted to develop to be a future health care provider."
Additional honors/ awards/ scholarship received during your time at UMBC?
"- Zanaib Damji Scholarship (from INDS)
– Gilman Scholarship (for students who want to study abroad and have financial need)
– Maryland Delegates Scholarships (for Maryland residents by legislative district)
– France-Merrick Scholars program (from the Shriver Center – for students dedicated to community work in Baltimore)
– Shattuck Family Intern Program (from the Career Center – for students interning with a start-up or non-profit)
– Undergraduate Research Award"