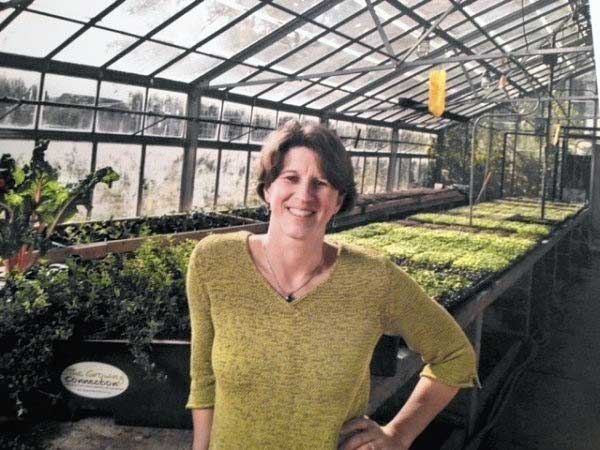 Attorney who worked on social justice issues, passes away
By Carrie Wells
The Baltimore Sun
Jill Wrigley, an attorney committed to social justice issues who helped increase access to fruits and vegetables for Baltimore schoolchildren, died of lung cancer at her home in southwest Baltimore on Oct. 5. She was 52.
Most recently, Ms. Wrigley taught a seminar on food and food systems at the University of Maryland, Baltimore County. Earlier in her career, she helped found Baltimore's office of Latino advocacy group CASA of Maryland, built a hotline for workplace rights at the Women's Law Center of Maryland and counseled labor unions in Washington.
"What made her a remarkable friend was also what made her a brilliant organizer for social change," said Susan Goering, director of the American Civil Liberties Union in Maryland. "She was generous, she was very good at listening to people deeply. She was also very modest."
Jill Lynne Wrigley was born in 1964 in Pottstown, Pa., a small town near Reading. Her father, Albert Wrigley, was an attorney in Pottstown and her mother, Marlene Wrigley, was a teacher.
Before graduating from Pottsgrove High School in 1982, Ms. Wrigley spent a year living in Sweden, later returning there to live for another year while in graduate school. She graduated summa cum laude from Wellesley College in 1987 after studying political science, then spent time in Guatemala volunteering in a foster home for children and assisting with an English program for GAM, a human rights group.
Ms. Wrigley earned her master's degree in political science and comparative politics, as well as her law degree, from Columbia University. At that time she met her husband, Michael Sarbanes, the son of former U.S. Sen. Paul Sarbanes. The two were set up on a blind date by mutual friends, Michael Sarbanes said.
In 1994, the couple married and moved to Baltimore. Ms. Wrigley joined the community organizing group BUILD, or Baltimoreans United in Leadership Development, for three years, and worked to lobby for higher pay for low-wage workers in Baltimore. From 1992 to 2002, she counseled labor unions on contract issues and collective bargaining at Barr & Camen, a law firm in Washington.
In 2002, she helped start the Baltimore office of CASA of Maryland, giving legal assistance to low-wage immigrant workers to protect their workplace rights and trying to raise awareness of the concerns of immigrants. Later, she helped start a statewide workplace rights hotline at Women's Law Center of Maryland to advise callers on labor and workplace rights.
The couple settled in a house near the woods in the Irvington neighborhood of Baltimore, a low-income area. They adopted biological brothers Mulugeta and Anteneh, then aged 3 and 5, from Ethiopia. Mr. Sarbanes said they had initially envisioned adopting a baby girl, but felt a connection to the boys after seeing their picture. "In that moment, we knew," Mr. Sarbanes said. The couple later added to the family, adopting a girl, Christina, from East Baltimore.
Children in the neighborhood would often come to the house and ask for food, and Ms. Wrigley was always ready with a healthy snack. "We picked apples last fall and she said 'OK, now we have enough for us and the kids coming to the door,'" Ms. Goering recalled.
With children in school and after seeing the food insecurity in the neighborhood, Ms. Wrigley was inspired to work on food sustainability issues. She did a variety of jobs and volunteer activities, including teaching the Food is Elementary curriculum at two city schools, doing an 18-month fellowship to develop "Good to Grow," a food education project for Baltimore schools, and advised a charter school consortium about ways to improve their food education and school food.
Ms. Wrigley also helped found Great Kids Farm, an educational farm for Baltimore schoolchildren. The lot was overgrown, and home to snakes before it was turned into an educational opportunity, her husband said.
"You had this 40-acre farm just sort of sitting there with this tremendous possibility of using that to engage kids about where does the food come from, what makes it good, how does it grow, and then taste the food," Mr. Sarbanes said.
Food became a way for Ms. Wrigley to feel she was making an impact, Ms. Goering said.
"It's a universal need," she said. "In a way it's a masterful way of making social change because it incorporates both the intimate and more grandiose love of large shifts in the political and social landscape."
Ms. Wrigley and Mr. Sarbanes helped create the Peace Park in Irvington, on a lot where a vacant house and a lot filled with junk once stood. With raised beds for plants and a wooden platform, the space became a place for the community to gather and hold birthday parties and other celebrations.
Ms. Wrigley was also a member of St. Bartholomew's Episcopal Church and enjoyed gardening, writing poetry and learning about new things, her husband said.
"If curiosity were a hobby, that would be her hobby," he said.
Funeral services will be at 11 a.m. Saturday at St. Bartholomew's at 4711 Edmonson Ave.
Ms. Wrigley is survived by her husband and three children, as well as her parents, who live in Pottstown, 14 nieces and nephews, and three siblings, Lara Wrigley, of Baltimore, Kurt Wrigley, of Gaithersburg, and Brett Wrigley, of Pottstown.
cwells@baltsun.com