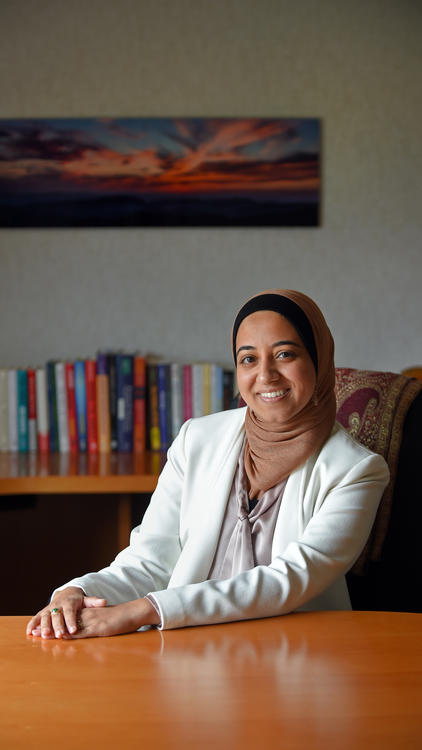 The Baltimore Sun's 25 Women to Watch in 2018
Tabassum Majid
INDS Alumna

Executive Director of Integrace Institute

Because Integrace Institute at Copper Ridge is located in an assisted-living facility, executive director Tabassum Majid can see the real-world applications of its Alzheimer's and aging research daily.
It's valuable insight for the Catonsville native as she looks to the future of aging and the needs of a growing, diverse demographic.
"We know you have symptoms [of dementia] 10 to 15 years before we see anything — that means for our generation, it's going to be even more important to build something we want to have," she says.
Integrace works toward that goal through research and education alongside technology and pharmaceutical companies, and applies its findings to practices at its four Maryland facilities. For example, the institute introduced a bistro serving fresh, seasonal dishes that follow the Mind Diet, emphasizing foods that research suggests can help dementia and slow the loss of brain function.
Majid says she always knew she wanted a career on aging. After graduating from the University of Maryland, Baltimore County with a degree in neurodegenerative disorders of the aged, she earned her doctorate from the Baylor College of Medicine in Houston and had a fellowship at the University of Maryland School of Pharmacy.
As progress in the field ramps up, Majid is welcoming the opportunity to join the global conversation. In 2017, Integrace was featured in the film "Every Three Seconds" with 23 other organizations from all over the world, and the institute is eyeing national collaborations for next year, particularly in Alzheimer's disease prevention.
"We are looking at who's the next generation of customers and seniors," she says. "And that's how we get that first step onto the global stage. The documentary was just the beginning in my opinion."
— Jennifer Turiano
---
Please note: UMBC is committed to creating an accessible and inclusive environment for all students, staff, and visitors. If you have difficulties accessing any of the materials on our site, please contact us so that we can provide an alternative format and remedy any accessibility challenges.