Congratulations to Gaby Salib!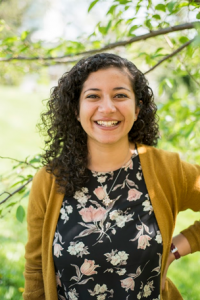 Congratulations to one of our recent Interdisciplinary Studies graduates, Gaby Salib! Gaby recently graduated with an interdisciplinary studies major in Human Centered Computing and a minor in American Studies. Gaby will continue her education with a Ph.D. program at Drexel University's College of Computing and Informatics with a focus on Human-Centered Computing.
How has INDS prepared you for the future?
"INDS has prepared me for the future of higher education: a way of understanding that makes broader connections and communicates across disciplines in a culture where it's easier to only hear those who agree with you and to stick with what you know."
What do you take away from your degree?
"From my Human-Centered Computing degree, I have learned that the technological age is not solely machine based, but cemented in the human experience, studied by the fields of Anthropology, Psychology, and Education. Going forward, the greatest assets to our technological development are the human considerations and the broader understanding of where such developments fit into our lives to empower our humanity rather than replace it."
Additional honors/ awards/ scholarship received during your time at UMBC?
"I am very proud of receiving the Zainab Damji Memorial Scholarship, earning President's List, serving as President of the Computer Science Education Club and President of the Coptic Club, leading the Computer Science Education club in conducting UMBC's first Hour of Code event as part of Former President Barack Obama's campaign for National Computer Science Education Week, for organizing a documentary screening and holistic discussion in collaboration with CWIT on "Code: Debugging the Gender Gap in Computer Science", for constructing an interdisciplinary degree in Human-Centered Computing (HCC) under the mentorship of incredible faculty, conducting research in the Prototyping and Design Lab for two years, culminating in a fascinating Capstone Research Project on Female Engagement in Technically-Oriented Spaces, and was funded by an NSF REU to conduct research at UNC-Charlotte's Socially Relevant Computing Internship for which I have presented my work on several occasions at HCC meetings and Department competitions."