Herbert Run Greenway Tour & Ribbon Cutting
At the Joseph Beuys Sculpture Garden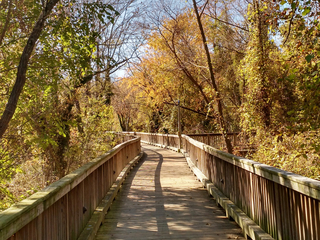 Friday, October 21, 2016
3:45 p.m.
Joseph Beuys Sculpture Garden*
(* between Administration Drive and Commons Drive along Hilltop Circle)
The Herbert Run Greenway (HRG) is a 1.4 mile linear trail along a tributary of the Herbert Run.  The trail was designed by students in an Interdisciplinary Studies seminar in 1995 to highlight some of UMBC's natural features and to expand on a "sense of place" on campus. The trail begins at the Joseph Beuys Sculpture Garden and goes through the tunnel to the Stadium (Giffen Hill area temporarily closed due to Events Center construction) and then up to the Conservation and Environmental Research Area (CERA) before crossing over to bwtech@UMBC. The HRG continues across the bridge to CERA Pond and back to the Sculpture Garden.
New signs were recently designed by a team of UMBC students along with help from UMBC Facilities Management.   The tour celebrates the collaborative history of the HRG and the new signage. We look forward to advancing the Greenway as a space for enjoyment, research and collaboration among a host of students, faculty and staff across varied disciplines and interests.
For more information, check out the website below.