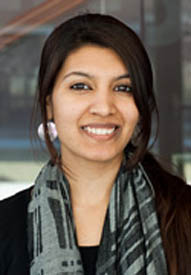 Samirah Hassan
Administrative Assistant II
Interdisciplinary Studies
FA 022
Office x52004
shassan1@umbc.edu
Samirah is responsible for supervising the INDS administration. She is a 2010 graduate of UMBC with a Bachelors of Science in Psychology and a minor in Biology, she is now pursuing Masters degree in Education: Instructional Systems Design. To support herself in these activities, she has been developing a career in Academic Administration. She started working at UMBC in the Political Science department as a student Assistant and later worked part-time as an Administrative Assistant. Some of the main tasks she performed for Political Science department were handling the budget, updating the website, maintaining the class schedule through PeopleSoft.
Samirah joined INDS as our part time Administrative Assistant II in Fall 2011, and was hired full time in February of 2012. Since then she has been managing the administration for the INDS and supervising student office assistants in providing administrative support for the program. As well as being the first point of contact for the program, some of her current projects are managing the budget (including payroll), implementing the new website design, and planning and coordinating departmental events. In addition, she is using her emergence skills in Instructional Design to produce training materials for our staff.
If you think you would like to work with our team, please get in touch with her. In particular, she keeps a list of anyone who is interested in becoming a student office assistant in our challenging and creative environment.