Congratulations to Kayla Smith!
As she heads to the American Mock Trial National Tournament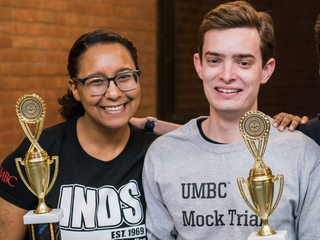 INDS student Kayla Smith, "Public Health and Advocacy", is preparing with the rest of her Mock Trial team to the American Mock Trial Association's National Championship Tournament in Los Angeles later this month. The tournament includes a select group of only 48 teams from all over the country.
Kayla comments, "Mock Trial has prepared me for a lifetime of experiences," Smith says. "After my first round in a real courtroom I thought to myself 'I wish I could do mock trial professionally' and I realized that was just called being an attorney. I'm now headed to law school in New York and I wouldn't have taken this path without Mock Trial."
Good luck to UMBC's Mock Trial team! Thank you for sharing your successes with us, Kayla.
For more information on the full story, check out the link below.