New INDS major Sophia Venero Speaks at Fall Opening Meeting
Incoming Presidential Scholar speaks at UMBC opening event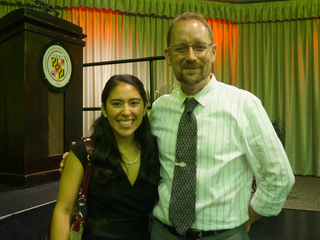 Incoming INDS major and transfer student Sophia Venero Shimabukuro was one of two undergraduate students selected to speak at the August 22 Fall Opening Meeting. Ms. Venero is a transfer student from
Montgomery College where she graduated with
honors as an Associates of Art, as a Phi Theta Kappa member and Vice-
President and as a Montgomery Scholar. She will be majoring in
Interdisciplinary Studies with a minor in Biological Sciences.  Ms. Venero has been awarded the UMBC Presidential
Scholarship which will cover her full- time tuition for two years. She plans to
volunteer at the Shriver Center with the Success Program.  Ms. Venero has also been working as the Program Manager for
KEEN Greater DC, which is a non-profit dedicated to providing exercise and recreational activities to persons with disabilities. Ms. Venero aims to become either a Physician or Physician's Assistant.  She is pleased to be joining INDS, and we are pleased to have her!